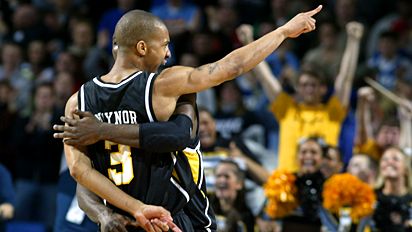 And most of the country celebrates. From the sound of things, that includes a whole bunch of happy tarheel fans in Winston awaiting the Carolina games. This is why nobody likes Carolina fans!

I think most of us in the ACC enjoyed a nice break from Duke dominance this year. But as a true ACC fan, Duke going out in the first round sucks as bad as Blue Devil free-throw shooting.

After the tournament when news slows down, ACC Fan Blog has a series planned on Duke Hating. But for the moment we'll just leave it at this. For whatever reason, almost all college basketball fans except Duke fans seem to be glowing in this upset. Not that these headlines are biased or even show this joy, but I always like to look and see the slant of stories.



To understand why Duke lost this game, you really only need to look at 2 stats. 17 Turnovers to 11 for VCU, and 20 of 32 from the charity stripe. After VaTech lost to state in the ACC tournament, having missed half of their free throws, I heard a line I really like. Sometimes they are free throws, sometimes they are just foul shots. Duke just couldn't hit them when they counted.
But to really understand how Duke ended up in this position, I think it comes down to 2 key factors
Greg Paulus is not a point guard.
Coach K did not do a very good job this year. He did not adjust his offensive and defensive schemes for the personel he had.

Playing man-to-man against a team you can't guard gave up far too many open, easy shots. He tried a 1-2-2 zone maybe twice, and yes VCU hit 3's against it, but he didn't give it a real chance I don't believe. Paulus couldn't guard anyone in man-to-man. A zone would have also let you play Brian Zoubek some. Against the much shorter team, not getting Zoubek on the court at least a little was a mistake.
The offensive sets that Duke tried in the second half were awful. They looked lost half the time, took far to many desperation shots, and I'm not sure if McRoberts got the ball down low at all in the last 8 minutes.
I'm sure speculation will start that K's Olympic involvment distracted him from Duke and was part of the cause for this mediocre season. Who knows. Duke will be better next year, although they still have serious point guard issues, but with 3 McDonald's All-Americans coming in, they will be better. But this is sure a dissappointment for true ACC fans.