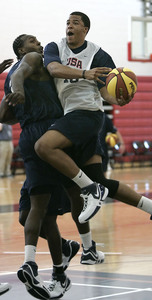 If the ice wrapped around Brandon Costner's right knee did not explain it, the expression on his face did.

Costner's chances of making the U.S. basketball team for the Pan American Games became a little dimmer after he banged his already injured knee against another player in tryouts last week at Haverford College.

The sophomore at North Carolina State, who is the son of former St. Joseph's great Tony Costner, still hopes to hear his name called when the 12-man roster is announced today.

"It's definitely holding me back," a glum Costner said about his knee. "I'm putting my heart into it. This was something I was really looking forward to." More...