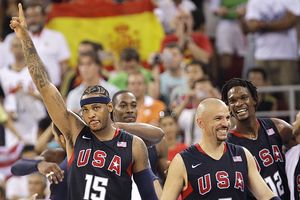 Coach Mike Krzyzewski led the U.S. men's Olympic basketball team back to the mountaintop Sunday in China. Team USA survived a scare from Spain and won the gold medal.
After its 118-107 victory on the final day of the Olympics, you would have thought this band of NBA superstars was a college team. They teased. They hugged. They danced. At the suggestion of LeBron James, all 12 players came to the postgame news conference instead of just one.
And so we finally had the answer to the question of whether a college coach at Duke could manage a team of multi-millionaire pros to Olympic gold. He could, and the way he could do it was by turning them back into kids again.
"We have not had one second of problem as a coaching staff with our team," an emotional Krzyzewski said afterward. "It's been the greatest experience of my life."
No one would have said that about the 2004 U.S. Olympic team, which disgusted onlookers with its me-first attitude, casual play and third-place finish. U.S. senior men's national director Jerry Colangelo tabbed Krzyzewski to rebuild the U.S. squad into a team that would not only win, but win the right way.
It sounded hokey, but Krzyzewski can do hokey like no one else. He can make it all real. As the final seconds ticked away in Sunday's game, Coach K and Colangelo first exchanged a long hug. Then Krzyzewski kissed Colangelo on the cheek.
"We've been joined at the hip for the last three years," Colangelo said, referring to Krzyzewski's three-year commitment to coach the U.S. team that began in 2006. "We had a common goal. So that was kind of a culmination. I never expected to be kissed by Coach K, but that was a great moment."
Each year Krzyzewski reminds me a little more of North Carolina coach Dean Smith, and now the two sport another similarity. Smith was the U.S. Olympic coach in 1976, another year when American basketball needed a star-spangled boost after getting a controversial silver medal in the 1972 Olympics.
Smith did the Olympics his way, too. He drew some criticism for putting four of his Tar Heels on what was then an all-college team; then he won a gold medal.
Krzyzewski had a much higher talent level to work with - and much better opponents to face. He was smart not to overcoach this squad, and to make them understand how deeply he cared.
The best player on the floor Sunday was the Miami Heat's Dwyane Wade. Coach K had helped nurture Wade's fragile ego through shoulder and knee injuries that had made Wade questionable for these Olympics. After the final, Wade brought that up on his own.
"I want to thank Coach K for believing in me, and I've told him that," Wade said. "He was the one who was always checking on me, seeing how I was doing. He was the one who believed in me coming back to this team."
Krzyzewski insisted on good defense - one of his hallmarks during his three national titles at Duke - but many times let the Olympic offense develop on its own. Said U.S. team member Chris Bosh, who admits to having once hated Coach K while he played at Georgia Tech: "We don't run too many plays. We just spread the floor, break guys down and share the ball."
Sounds easy, doesn't it? Even Krzyzewski's wardrobe reflected his "less is more" approach with Team USA. He ditched the dark suits he wears at courtside at Duke for a more casual Olympic look. The final was typical. Coach K wore a black polo shirt and gray slacks. It looked like casual Friday at the office.
But Krzyzewski was anything but casual about his team. He worked the referees. He prepared so feverishly - like he was a young coach at Army again - that his wife, Mickie, said she didn't recognize him. He took nothing for granted.